The Beauty of the Human Body through the Lens of Computing
We create imaginative stories that immerse you in virtual worlds inside the human body. Imagine being in a microscopic vessel traversing our body's systems, organs, cells, and watching molecules create the intricate machineries of life. We build explorations, self-directed adventures, and engage you in intriguing facts about how our body works, how it keeps itself alive, and how it maintains an intricate balance at so many levels of complexity. Come join us on our journey.
Stories and News about the LINDSAY Body Universe
See how we use computer game engines to build fascinating virtual body worlds. We bring together artists, medical experts, computer scientists, game designers, story tellers, actors, musicians, and cinematographers to create more and more intriguing adventures. Inspired by Isaac Asimov, let us take you on Fantastic Voyages.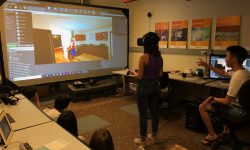 As has now become tradition, we have a passionate group of students working over the summer on their research projects in the LINDSAY Virtual Human lab. Projects directly related to LINDSAY are: Gut-Brain Interactive Simulation & Game Ryan Lee has returned to the LINDSAY lab for a second summer. He…
What's next? ... Contact us.